READ ABOUT MINNIE'S DREAMS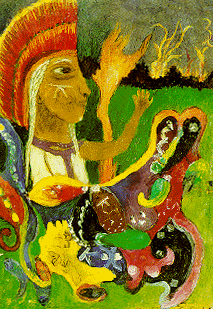 "The Lost Indian" by Minnie Evans, Courtesy of Richard Edson and the Folk Art Gallery
Minnie Evans once said her dreams "tormented" her. She dreamed of intricate flowers, mythical creatures, giant birds, and mysterious faces. She also dreamed of people from other cultures--the Chinese, the "lost tribes of Israel," and Native Americans. According to Minnie, the light in "Lost Indian" is a signal to help the Indian find his way.
From Painting Dreams, p. 34.
---

PAINT ONE OF YOUR DREAMS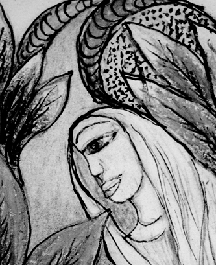 Detail from crayon drawing of veiled women by Minnie Evans, photograph ©1961 by Nina Howell Starr.
Directions:
Choose a material: Minnie painted on paper bags, discarded stationery, poster board, or canvas.
Start with a sketch: First she sketched an outline of her dream in pencil.
Add color: Next she applied rainbow colors with crayons, watercolors, or oil paint.
Final step: Sometimes Minnie sketched an entire picture, erased it, then spent days drawing the same image again. "I keep putting down something till after a while something says, 'That's right, Minnie, that's right. All right.'"
(From PAINTING DREAMS: MINNIE EVANS, VISIONARY ARTIST, p. 25.)