REMEMBER THOSE WHO DIED
The Great Famine lasted from 1845-1852. The 150th anniversary is still being observed in Ireland and America.
Read about the Famine Museum in Ireland.
The "Irish Hunger Memorial" was dedicated in New York City on July 16, 2002.
Learn more about the memorial.
See more Famine memorials in Ireland, Great Britain, the U.S., and Canada.
---

GETTING TO KNOW IRELAND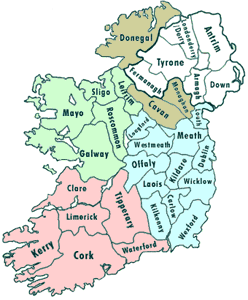 Each speaker in Feed the Children First lived in one of Ireland's thirty-two counties. Kate Flood, for example, was from County Longford. Point to County Longford on the map.

Right-click on the map and choose "print". While reading Feed the Children First, use the map to locate the counties where speakers lived.

---

TAKE A TRIP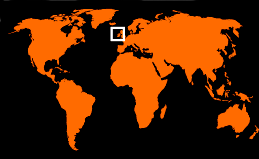 During and after the Great Hunger, millions of Irish left their homeland and went to North America. Let's follow their path. First, point to the white box on the map. You've just found Ireland. Now move your finger to the left and travel west across the Atlantic Ocean. You've reached the continent of North America. Your journey took only a few seconds. Ships carrying Irish passengers took many weeks to make the crossing.
---
Map of the counties courtesy of Local Ireland http://www.local.ie/
World map courtesy of www.worldatlas.com