Catching the Fire:
Philip Simmons, Blacksmith
(Houghton Mifflin, August 1997 0-395-72033-8)
Photograph ©1997 by John M. Vlach
New edition! 
When Philip Simmons was thirteen years old, he caught the blacksmith fever. Now ninety-four years old, he has spent his life crafting lumps of metal into beautiful ornamental pieces. His gates, fences, and railings decorate the city of Charleston, South Carolina, where he has lived and worked most of his long life.
In the only book for young readers about this amazing African-American craftsman, Mary E. Lyons evokes the vision of a remarkable man. Researching the book with intricate care, she visited frequently with Simmons and others who worked with him. Using the artist's own words, she has pulled together not only a compelling portrait of the man and his work, but of his journey from great-grandson of slaves to nationally renowned artist.
Lyons tells the story of someone who loves his work and who creates art with passion. Philip Simmons is truly a working person's hero and role model. Catching the Fire presents the landscape of his life.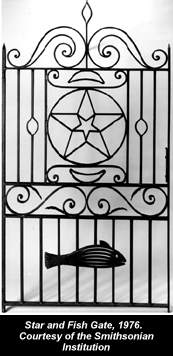 BE A BLACKSMITH
As a boy, Philip Simmons liked to draw the old wrought iron gates he saw around Charleston, South Carolina. This childhood hobby now helps him design his own gates. Each one begins as a sketch. In an instant, the blacksmith can tell if the curves have too much "belly" or need more "open space."
Materials: When Philip has an idea for a gate, he draws on anything he can find -- paper, cardboard, even a coffee cup. If he is outside, he sketches in the dirt. Sometimes he makes a full-size drawing on sheet metal with chalk.
Sketch: Use pencil and paper or chalk and chalkboard to draw the Philip Simmons "Star and Fish Gate" pictured above. Draw free-hand. No tracing!
Check: Watch your curves. Are they evenly-spaced? Do they have too much "belly"?