WAS THOMAS DAY FREE? YOU DECIDE.
Photograph of Thomas Day's grave (c) 1994 by Mary E. Lyons
Thomas Day moved from Virginia to North Carolina around 1823. For the next thirty-six years, he made furniture in the village of Milton. Tom probably had white friends, but if he ever felt relaxed about his free status, the icy hand of North Carolina law woke him up. Though he was legally free, he was treated like a slave.
Every month he watched a local militia, the Milton Blues, drill on New Bridge Street. Tom wasn't allowed to join because North Carolina law stated that free Negroes couldn't serve in the military except as musicians. He couldn't bear witness against a white person in court. Worst of all, he couldn't collect money owed to him by whites unless he owned property. In 1826, North Carolina tightened the screws that held free blacks in place. They ruled that no free African Americans could enter the state. Free Negroes were "unfortunate and troublesome," the legislators fumed, and "a public nuisance."
From Master of Mahogany, pp. 11-12.
---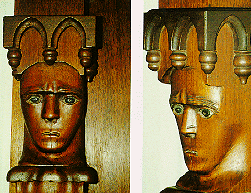 Newel post by Thomas Day, photograph ©1994 by Mary E. Lyons

BE A SCULPTOR
Thomas Day is famous for his bold, handsome furniture. He also sculpted faces and figures from wood. Here are some ideas to make your own sculpture.
Mask: Some say that Thomas's carved faces looks like an African mask. Use the cover of MASTER OF MAHOGANY as a guide. Make a brown paper mask that resembles the face.
Self portrait: Others say Thomas's carved face is a self-portrait. Use a photograph of yourself as a guide. Carve a "wooden" self-portrait from cork or oatmeal soap.
Initials: One legend says that Thomas Day made a newel post in the shape of his initials (see MASTER OF MAHOGANY, p. 37.) Use modeling clay to sculpt your initials.