READ ABOUT PIPPIN IN WORLD WAR I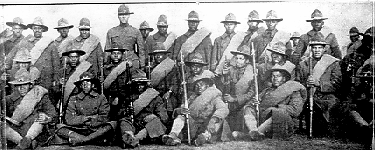 Horace Pippin's regiment, the "Hell Fighters," circa 1917
One morning as Horace dove for cover in a shell hole, a German sniper shot him in the shoulder with an exploding dumdum bullet. The other four men in the hole tried to bandage Horace's wound, but then had to leave him there. Every time he tried to climb out, the sniper fired again. By afternoon, Horace was too weak to leave on his own.
A French soldier came by and looked in the hole. Before Horace could warn him, a German bullet passed through the Frenchman's head. "He stood there for at least ten seconds before he slipped down," Horace remembered, "and when he did he slid down on top of me."
Horace was rescued from the hole the next day. He was put on a stretcher, where he lay in the rain all day and night. At last the stretcher-bearers arrived and carried him to a dugout, where he waited for an ambulance to take him to a field hospital. The doctors there operated, attaching the shattered right shoulder to his upper arm with a steel plate.
---

PAINT LIKE HORACE PIPPIN
Though Horace's wound healed, he could not lift his right hand above shoulder level. In this picture he supports his weak right hand with the stronger left one.
Experience Horace's difficulties by using your left hand if you are right-handed or your right hand if you are left-handed. Copy "Cabin in the Cotton" (see cover of STARTING HOME).
Directions:
Choose a size: Because painting was painful for Horace, he usually made small pictures. "Cabin in the Cotton" is 23 inches high and 29 inches wide.
Sketch: Horace often drew his design in pencil first. Make a free-hand outline of "Cabin in the Cotton." Hold the pencil in your left hand (or right hand if you are left-handed). Guide with your other hand.
Paint: Use any paint you can find (sometimes Horace used house paint). He applied paint with tiny brush strokes. Guide your paintbrush in the same way. Remember-- your "wounded" hand cannot hold itself up or press down without help from the other hand.