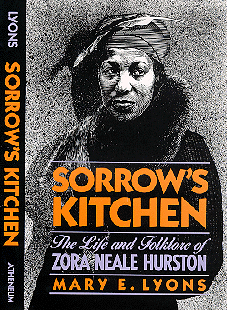 Sorrow's Kitchen: The Life and Folklore of Zora Neale Hurston
(Scribner, 1990 ISBN 0-684-19198)
Jacket illustration ©1990 by Kent Barton. Jacket design by Vikki Sheatsley.
Sorrow's Kitchen tells the remarkable story of Zora Neale Hurston's life: her childhood in Eatonville, Florida at the turn of the century; her struggle for education; the triumphant years of the Harlem Renaissance; and her determination to collect and preserve the folklore of her native South and the West Indies. Interwoven are generous samplings of Hurston's writing.

READ A PLAY
Zora Neale Hurston and Langston Hughes co-authored MULE BONE: A COMEDY OF NEGRO LIFE. Chapter One of SORROW'S KITCHEN features a history of the play and a brief excerpt. Choose one of the characters below and read aloud.
Narrator: Recounts the history of the play.
Dave: He wants Daisy.
Jim: He wants Daisy, too.
Daisy: She can't make up her mind.
---

What are ZOMBIES and where do they come from? Click here for answers.
---

THE CROW DANCE
Zora Neale Hurston was an African-American writer, folklorist, and anthropologist. Click to read Zora's explanation of "The Crow Dance", a folk song with African roots.
---