LEARN ABOUT JACOB'S DREAM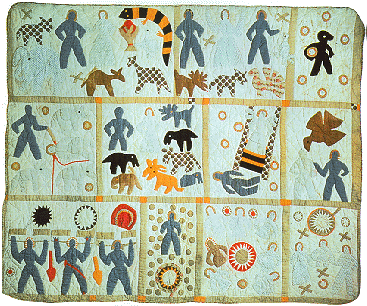 Harriet Powers's Bible Quilt, Museum of American History.
Second Row, Third Panel: Harriet Powers said this was the Bible story of Jacob's dream when "he lay on the ground." Enslaved African Americans identified with Jacob, for he was homeless, hunted, and weary of his journey. The angel is going up the ladder to heaven. When slaves sang the spiritual, "We Are Climbing Jacob's Ladder," they longed to climb a ladder to freedom.
From Stitching Stars, p. 14.
---

TELL A STORY
Harriet Powers retold favorite stories in her quilts. She said Betts was "the independent hog who ran 500 miles from Georgia to Virginia," but this is all we know about Betts. Make up a tale about Betts and why she ran away. Write your story on paper or tell it to friends. Illustrate with your own picture of the pig. (You can see Harriet's picture of Betts on the cover of STITCHING STARS, middle of bottom row.)